The Production Team

John Berardi, Host
JB is a Canadian-American best known as the co-founder of Precision Nutrition, founder of Change Maker Academy, and host of The Dr. John Berardi Show. He's advised Apple, Equinox, Nike, and Titleist, as well as US Open Champ Sloane Stephens, UFC Champ Georges St. Pierre, the San Antonio Spurs, and the Carolina Panthers. He's been named one of the 20 smartest coaches in the world, 25 most powerful men in fitness, and 100 most influential people in health and fitness.

Marjorie Korn, Researcher and Co-Writer
Marjorie is a writer, editor, and researcher who specializes in health and science, investigative reporting, and feature-length storytelling. Most recently, she was a senior editor at Men's Journal, and is an instructor at Columbia University's Vagelos College of Physicians and Surgeons. Marjorie is an award-winning journalist who has been published in the Associated Press, Sunday Times (UK), Time, GQ, The Dallas Morning News, and more.

Martin DeSouza, Producer
Martin DeSouza is the Producer of The Dr. John Berardi Show. He is involved in the entire podcast production process from episode ideation to publishing and distribution. Martin is responsible for bringing guests on board and works hard to make their experience as welcoming and seamless as possible. Martin enjoys connecting with fellow producers and podcast enthusiasts.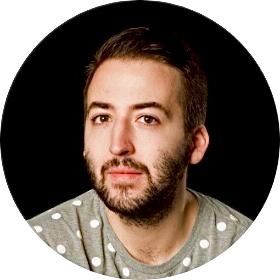 Dylan Groff, Sound Design and Editing
Dylan is a Canadian Audio Engineer and Musician. He has recorded and mixed projects for global brands including Ubisoft (Far Cry 6, The Division 2, Watchdogs Legion), TD Bank, BMW, Toyota, Smirnoff, and Crown Royal. Dylan has a passion for great audio and is excited to add his skills to the team behind the Dr. John Berardi Show.
How to Listen to The Show
To listen to our Main episodes, you can do so here. You can also visit the show on Apple Podcasts, Spotify, Google Podcasts (or wherever you listen to podcasts).
Note: Bonus episodes and show transcripts are available to our (free) inner circle members. These full-length guest interviews are treasure troves of interesting ideas and information that you won't want to miss.
Leave Us A Review
The latest stats suggest there are ~850,000 podcasts being produced around the world. (Yea. Woah.) As a listener, finding a good one is like searching for a needle in a haystack. As a producer, getting your podcast heard is equally challenging.
This is where you can help.
By rating and reviewing the show on Apple Podcasts you can help others find the show more easily while helping us get the word out.
Clicking that little subscribe/follow button on Apple Podcasts, Spotify, Google Podcasts, or your favorite podcast hosting tool, also makes a difference. By subscribing, you get notified as soon as we post new episodes. The podcast gods also get notified that you like us and they show it to more people.
So, reviewing the show and subscribing, really does help. A lot. So, if you like what we're doing, please consider it. Thanks!